Rechargable Heated Motorcycle Gloves Battery Powered Touchscreen Warm Motorcycle Gloves
Do you want to go for a ride on your motorcycle in the snow without your hands freezing? Well, we bring you the solution! We have launched this new line of warm motorcycle gloves on the market in an exclusive and limited offer. With these heated motorcycle gloves you will be able to keep your hands always warm, thanks to the fact that it has a fast heating mechanism made of high-efficiency carbon fiber composite wire, giving you a high but safe and reliable heating temperature.

These gloves are the best heated motorcycle gloves on the market because they have an ergonomic design, with a finger touch system so you can use your mobile phone or another touch device without having to remove your gloves. It has 3 adjustable temperature levels to adapt to your needs and best of all, it is perfect to use in different outdoor sports, such as hiking, camping, fishing, hunting, horse riding, skiing, climbing, driving, etc.

Do not hesitate and buy these warm motorcycle gloves right now.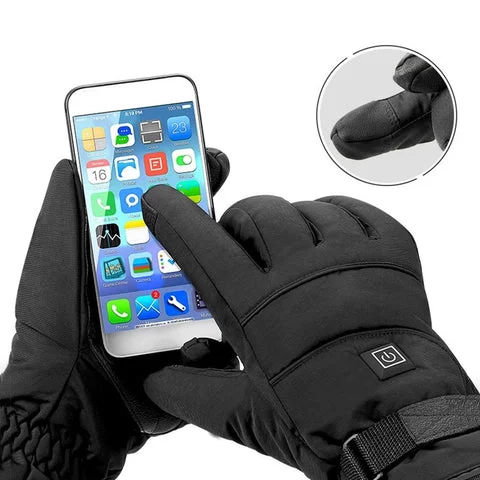 Warm motorcycle gloves features:
Easy to use.

Rapid heating.

Long useful life.

Touch screen design.

3 temperature levels.

Wide application.

Comfortable and soft.
Specifications:
Material: Nylon + Cotton.

Lithium battery: 4000 mAh / 2000 mAh.

Temperature: Approximately 45 degrees Celsius.

Keep warm time: Constant temperature approximately 3-6 hours.

Size: 2000 mAh.
Package contains:
1 * Pair of heating gloves.
1 * USB Charging Cable.
2 * Lithium battery.