EFFORTLESSLY EASE YOUR PAIN IN 10 JUST MINUTES!
Are you spending countless hours in front of the computer or your phone? Give your Neck a Relaxing Massage in just 10 minutes!
Anybody that spends their day sitting at a desk is extremely susceptible to ongoing stiffness and tension in their neck and shoulders.

These unnatural positions slowly
deteriorate
our posture, which puts unnecessary stress on our bodies.
Make Working from Home delightful!
"During quarantine I started ordering online. This is the best order all year.. a lifesaver! I wished I new about this all these years, living with neck pain leading to migraines." - Kate (US)

How does it work?

The Neck & Shoulder Muscle Relaxer Device creates ultimate relaxation in your neck and shoulder anytime anywhere. It helps you relieve stress, migraines and feel refreshed. It is an intelligent, personal massager, made of premium materials.
You do not need to ask your friends or spouse to get that STIFF SPOT (what some people call it, "Knot").
Easy to use anywhere: at home, in offices, cars, and more.
It's like having your personal massager on your hand whenever you want 24/7.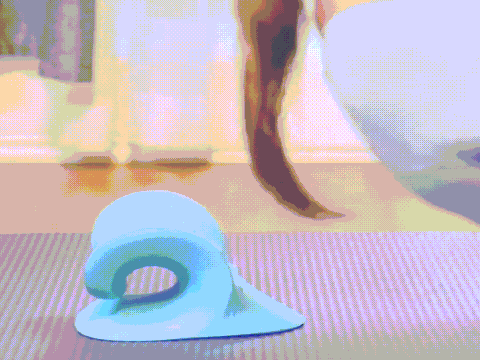 RELIEVE TENSION IN JUST 10 MINUTES!
Neck & Shoulder Muscle Relaxer Device's
effectiveness lies in its simplicity. It Reduces Stress & Tension Effectively!
Employing a powerful ergonomic
S-type elastic traction,
flexible yet strong
spinal support, Neck & Shoulder Muscle Relaxer Device
uses your own body weight and curvature to offer cervical stimulation and tension relief.
We make sure each Neck & Shoulder Muscle Relaxer Device contains the most
premium materials,
with in-house technology that goes above the norm!
Scientific stretching?
Yes, that is right! Each Neck & Shoulder Muscle Relaxer Device is 3D printed and has two types of elastic strengths, so it helps you relieve even the most uncomfortable cervical pain types.
Convex: Gentle traction (suitable for beginners)
Concave: Strong traction (high elasticity)
Neck & Shoulder Muscle Relaxer Device employs an incredible combination of acupressure, occipital muscle stimulation, and cervical relaxation to instantly relieve your neck pain.
Through its uniquely constructed design, your spine will be stabilized and supported which will re-establish your body's natural posture.
This will lead to an increase in blood flow to your brain, neck muscles, and shoulders, which instantly begins to reduce soreness while increasing the range of motion in your upper body.
The Perfect Work From Home Gift 🎁
Studies show that optimized posture is directly related to elevation in mood, concentration, metabolism, immune system, and more, so the Neck & Shoulder Muscle Relaxer Device's ability to perfect your body's curvature is doing much more than you can ever imagine in just 10 minutes!
COFFEESTRICT shipped to almost every country in the world, we use the services of major, trusted international carriers to ensure that your package reaches its destination quickly and safely.
Mode of transport:
We use the following modes of transportation: FEDEX, UPS or USPS.
Mode of transport and Cost:

Duty-free, standard shipping for USA, Shipping Cost 9.99 USD.

Excluding tax, free shipping on orders over 59.99 USD (applicable to single orders worldwide).


Transportation time:
All orders will be shipped within 3-7 business days, after the product is shipped, it usually takes 15-25business days to arrive.
Please note that shipping time does not include processing time.
The total time required to receive an order is processing time + shipping time.
Processing time;
Upon receipt of your order, we will conduct quality control checks and tests to ensure that the quality of the products is guaranteed prior to shipment.
The average processing time is about 3-7 days depending on the specific product.
However, it may also be affected by the inventory status of materials.
Please note that this does not include holidays and weekends.
If you have any questions, please refer to the contact page, which is at the bottom of our website. You can always contact us.
Transportation cost:
Our transportation is all free of charge, do not need any charge for your transportation
Tax matters needing attention:
For the United States;
We don't charge any taxes in the United States
For other countries;
In most countries/regions, our customers do not have to pay import charges, customs duties or value added tax (VAT).
However, for some limited countries, you may need to pay customs duties or VAT according to the collection rules of your country/region. You can check with your local customs for more information.
If you have any further questions, please contact our customer service Email:[email protected]
How to track shipping orders:
We will send the tracking number through your email address where you placed the order. For the tracking number, it will take 2-3 days to take effect on the tracking website website, because it takes a certain amount of time to scan and upload the logistics information.
If this information is not available, try again later.
Rest assured that no matter how updated the tracking site is, the estimated shipping time is valid.
The tracking website is