"I love this scratcher! By me, I mean my cat and me. I had many scratching apparatuses, but my cat still preferred my couches until I bought this thing. She really likes it and plays with it all the time. It has helped distract her from my furniture and I am very impressed. Great thing is that it doesn't take up much space and it is pretty sturdy. I recommend trying it out and seeing how your cat will respond."
⭐⭐⭐⭐⭐- Alisha K.
✅ Verified Buyer
KEEP YOUR CAT AWAY FROM YOUR FURNITURE
It is an instinctive behavior for cats to scratch, claw, and tear when bored or as a way to express emotions. They have a need to scratch and certain materials will attract more destructive behavior than others. Most other scratchers aren't effective because of their texture and design. Cats need an outlet and there is a better option than your favorite couch or chair.
The KittyCute Irresistible Scratch Post is an interactive scratcher designed to protect your furniture and attract your cat's attention. It is constructed with wear-resistant, hemp rope that is an instant favorite with most felines. This revolving scratch post can help satisfy all your cat's scratching urges. Keep your cat happy and engaged, so your furniture can stay untouched and protected.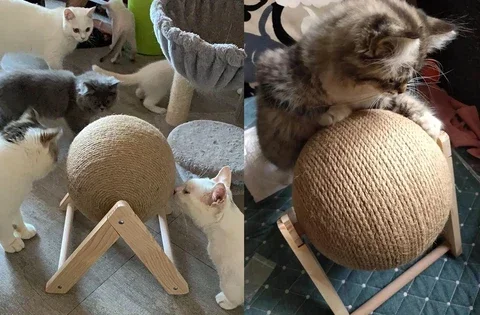 WHY EVERY PET OWNER NEEDS THE KittyCute Irresistible Scratch Post
IRRESISTIBLE REPLACEMENT FOR FURNITURE
The KittyCute Irresistible Scratch Post is designed to attract your cat's attention to help prevent the scratching of furniture. It will help replace your chairs, couches, and cushions as their new favorite scratch post.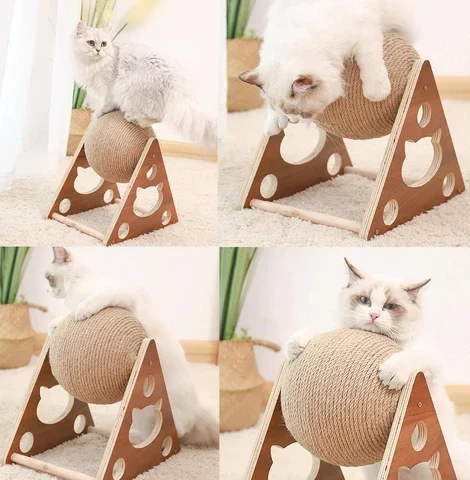 PROMOTES HEALTHY WELL-BEING FOR YOUR PET
The KittyCute Irresistible Scratch Post promotes healthy nail growth and mental stimulation for overall well-being. It is interactive and will help keep your cat active, healthy, and happy.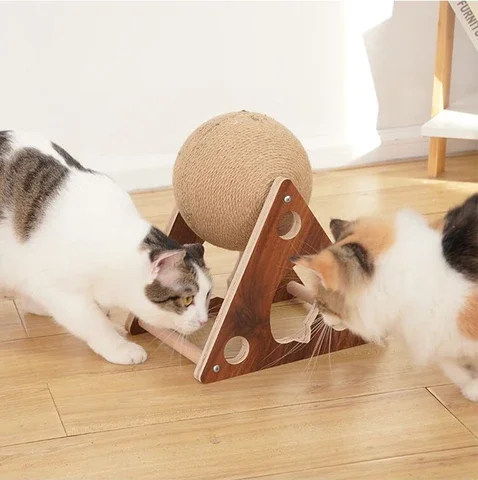 FUN & ENGAGING OUTLET FOR CATS
This revolving scratcher keeps your cats engaged and entertained while providing an outlet to express their emotions. They can now satisfy their natural scratching instinct with this fun and stimulating scratch post.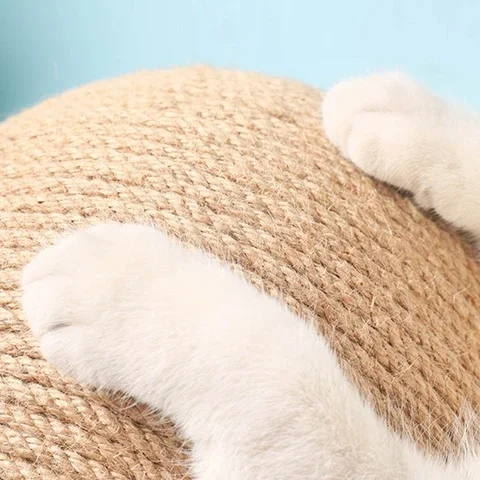 STURDY, SOLID & WEAR-RESISTANT
This scratch post is constructed with a strong, high-quality wooden base and sisal rope, aka hemp rope, to withstand the sharpest of claws. Hemp rope is natural and safe for your cat and entices them to dig their claws in.
SIMPLE, SPACE-SAVING & EASY TO INSTALL DESIGN
The KittyCute Irresistible Scratch Post is simple to set up and only requires a few simple screwings to install. It is lightweight and features a simple, space-saving design that can be placed wherever your cat likes.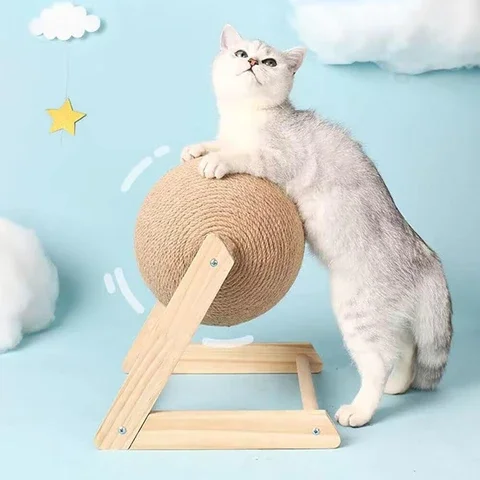 We understand how frustrating it is to have your favorite chair and couch scratched and scuffed up. Not to mention how confusing and irritating it can feel when you already bought a scratcher for your cat. A recent study showed that 8 out of 10 cat owners had items scratched and destroyed.
With the KittyCute Irresistible Scratch Post, we can sigh with relief to no longer having to worry about destroyed furniture. This revolving scratcher does more than just protect furniture, it provides a fun and stimulating outlet for overall well-being. With your furry friend engaged and entertained, you can have peace of mind knowing their emotions are expressed on something other than your furniture.
KittyCute Irresistible Scratch Post Specifications
We recommend the KittyCute V2 for larger and bigger cats and KittyCute V1 for smaller cats.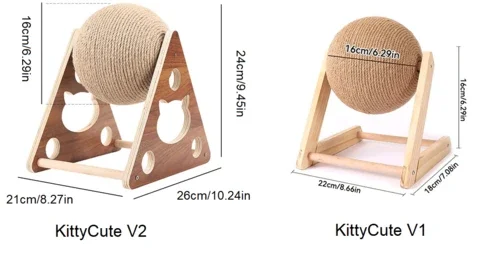 COFFEESTRICT shipped to almost every country in the world, we use the services of major, trusted international carriers to ensure that your package reaches its destination quickly and safely.
Mode of transport:
We use the following modes of transportation: FEDEX, UPS or USPS.
Mode of transport and Cost:

Duty-free, standard shipping for USA, Shipping Cost 9.99 USD.

Excluding tax, free shipping on orders over 59.99 USD (applicable to single orders worldwide).


Transportation time:
All orders will be shipped within 3-7 business days, after the product is shipped, it usually takes 15-25business days to arrive.
Please note that shipping time does not include processing time.
The total time required to receive an order is processing time + shipping time.
Processing time;
Upon receipt of your order, we will conduct quality control checks and tests to ensure that the quality of the products is guaranteed prior to shipment.
The average processing time is about 3-7 days depending on the specific product.
However, it may also be affected by the inventory status of materials.
Please note that this does not include holidays and weekends.
If you have any questions, please refer to the contact page, which is at the bottom of our website. You can always contact us.
Transportation cost:
Our transportation is all free of charge, do not need any charge for your transportation
Tax matters needing attention:
For the United States;
We don't charge any taxes in the United States
For other countries;
In most countries/regions, our customers do not have to pay import charges, customs duties or value added tax (VAT).
However, for some limited countries, you may need to pay customs duties or VAT according to the collection rules of your country/region. You can check with your local customs for more information.
If you have any further questions, please contact our customer service Email:[email protected]
How to track shipping orders:
We will send the tracking number through your email address where you placed the order. For the tracking number, it will take 2-3 days to take effect on the tracking website website, because it takes a certain amount of time to scan and upload the logistics information.
If this information is not available, try again later.
Rest assured that no matter how updated the tracking site is, the estimated shipping time is valid.
The tracking website is