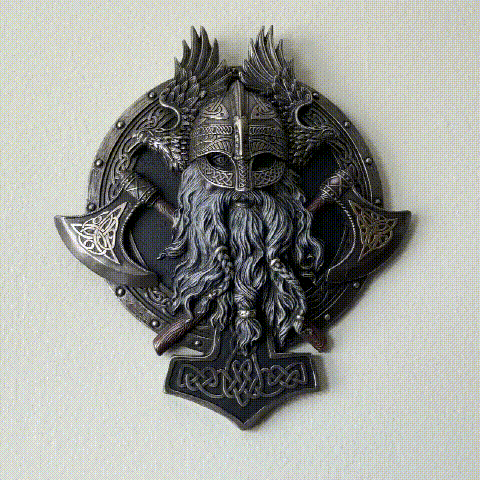 Overview: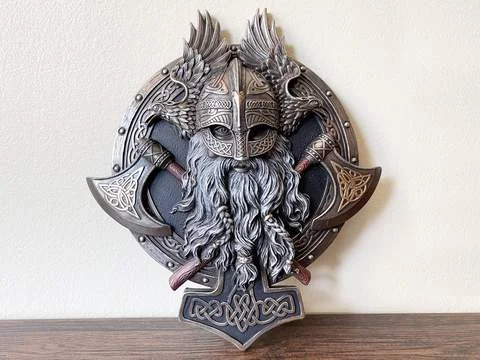 The Vikings were made up of landowning chieftains and clan heads, their retainers, freemen, and any energetic young clan members who sought adventure and booty overseas. At home, these Scandinavians were independent farmers, but at sea, they were raiders and pillagers.

During the Viking period the Scandinavian countries seem to have possessed a practically inexhaustible surplus of manpower, and leaders of ability, who could organize groups of warriors into conquering bands and armies, were seldom lacking. These bands would negotiate the seas in their longships and mount hit-and-run raids at cities and towns along the coasts of Europe.
Product details: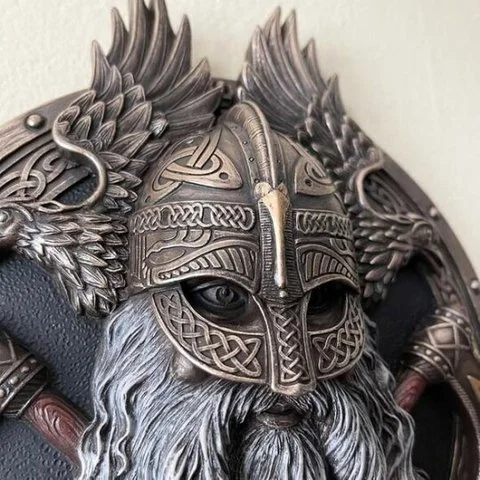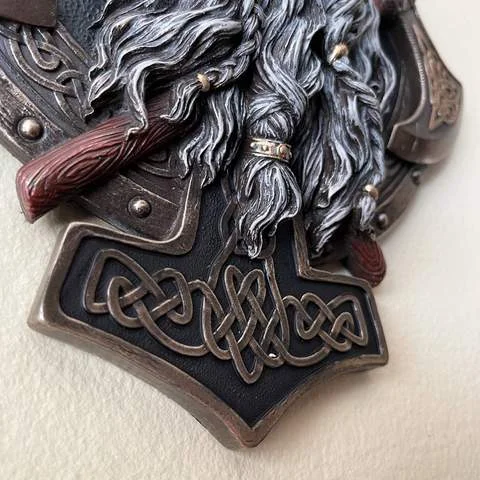 In front of the shield, there is a Viking warrior face in the center. It wears a sequined helmet. More knots adorn its helmet. In addition, the soldier has a long gray beard and braids at the end. Behind the warrior's head is a pair of bronze crows facing in opposite directions. There is also a pair of crossed shafts. Their bronze beard blades have brown handles with knots. At the bottom of the plaque, there is the lower part of Thor's Hammer design. It also has knotted details. It is an exquisite decoration, very suitable for hanging in the home or office.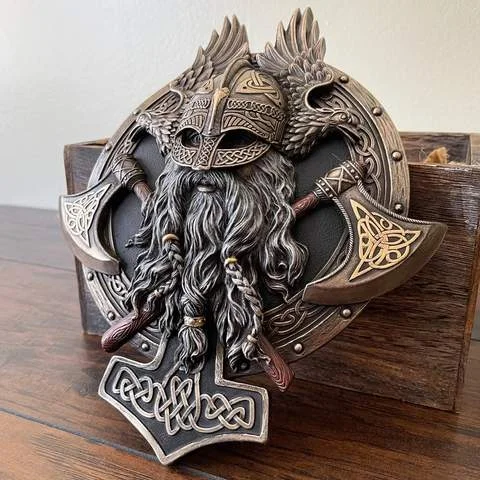 It can be easily mounted on the wall using the keyhole hook on the back. Suitable for offices, gardens, terraces, bedrooms, porches, residences, apartments, etc. Viking wall panel decoration symbolizes protection and guard, and is a great choice for gifts.
Size & Material:
COFFEESTRICT shipped to almost every country in the world, we use the services of major, trusted international carriers to ensure that your package reaches its destination quickly and safely.
Mode of transport:
We use the following modes of transportation: FEDEX, UPS or USPS.
Mode of transport and Cost:

Duty-free, standard shipping for USA, Shipping Cost 9.99 USD.

Excluding tax, free shipping on orders over 59.99 USD (applicable to single orders worldwide).


Transportation time:
All orders will be shipped within 3-7 business days, after the product is shipped, it usually takes 15-25business days to arrive.
Please note that shipping time does not include processing time.
The total time required to receive an order is processing time + shipping time.
Processing time;
Upon receipt of your order, we will conduct quality control checks and tests to ensure that the quality of the products is guaranteed prior to shipment.
The average processing time is about 3-7 days depending on the specific product.
However, it may also be affected by the inventory status of materials.
Please note that this does not include holidays and weekends.
If you have any questions, please refer to the contact page, which is at the bottom of our website. You can always contact us.
Transportation cost:
Our transportation is all free of charge, do not need any charge for your transportation
Tax matters needing attention:
For the United States;
We don't charge any taxes in the United States
For other countries;
In most countries/regions, our customers do not have to pay import charges, customs duties or value added tax (VAT).
However, for some limited countries, you may need to pay customs duties or VAT according to the collection rules of your country/region. You can check with your local customs for more information.
If you have any further questions, please contact our customer service Email:[email protected]
How to track shipping orders:
We will send the tracking number through your email address where you placed the order. For the tracking number, it will take 2-3 days to take effect on the tracking website website, because it takes a certain amount of time to scan and upload the logistics information.
If this information is not available, try again later.
Rest assured that no matter how updated the tracking site is, the estimated shipping time is valid.
The tracking website is