STOP DOG BARKING WITHOUT HAVING TO CONFRONT YOUR NEIGHBOR!
Anti Barking Device, Upgraded Mini Bark Control Device with Effective 4 Adjustable Sensitivity and Frequency Levels, Easy to Use Automatic Ultrasonic Dog Barking Control Devices for almost Dogs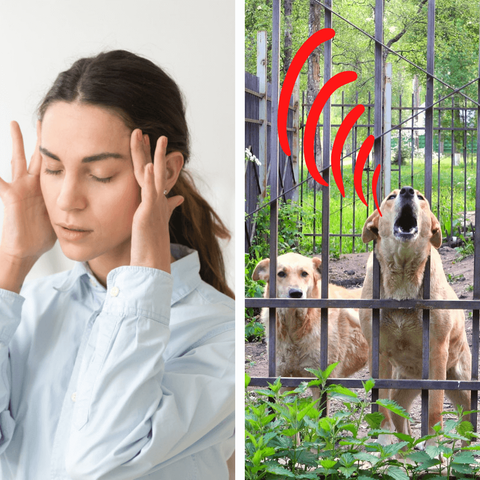 Features:
ღ【2022 NEW UPGRADED】 The built-in pickup can detect the dog's barking, and the barking control device will automatically emit ultrasonic waves that the dog can hear, effectively training your dog to stop excessive and noisy barking. After the dog stops barking, the ultrasonic barking control device automatically stops emitting ultrasonic waves.
ღ【HIGH QUALITY TEXTURE】 The dog bark control shell UV resistance, not easy to fade. Can be easily hung on trees, indoor, outdoor walls or fences to stop any dog barking (Ultrasonic anti-bark device can automatically detect bark within 50 feet). And the shell is IP4 waterproof grade, can effectively resist external splash. But if it rains, it's best to take it back, which helps protect the equipment and extends its life.
ღ【SAFE SILENT POLLUTION】 The mini bark control uses ultrasonic technology that allows humans to hear a slight sound but is not affected by the sound. When the sound starts, the dog will notice the sound and other family members or neighbors will not be worried about being affected.Ultrasound does not impose substantial penalties on the dog.
ღ【WIDE RANGE OF APPLICATION】 The anti barking device ultrasonic has 4 frequencies to choose, Each dog could choose the suitable frequency (15KHZ-30KHZ), and if the dog was not sensitive to this by using for a long time, please change the different frequency better. The dog device is suitable for dogs between 6 months and 8 years of age, except for dogs with hearing impairments or under 6 months and special large dogs.
ღ【SENSITIVITY ADJUSTMENT】 The barking control devices ultrasonic has a choice of 4 sensitivities.According to the use of the environment can be set up the best suitable gear, the induction distance can be selected, adjust the sensitivity to achieve.Level 1 is the least sensitive and level 4 is the most sensitive.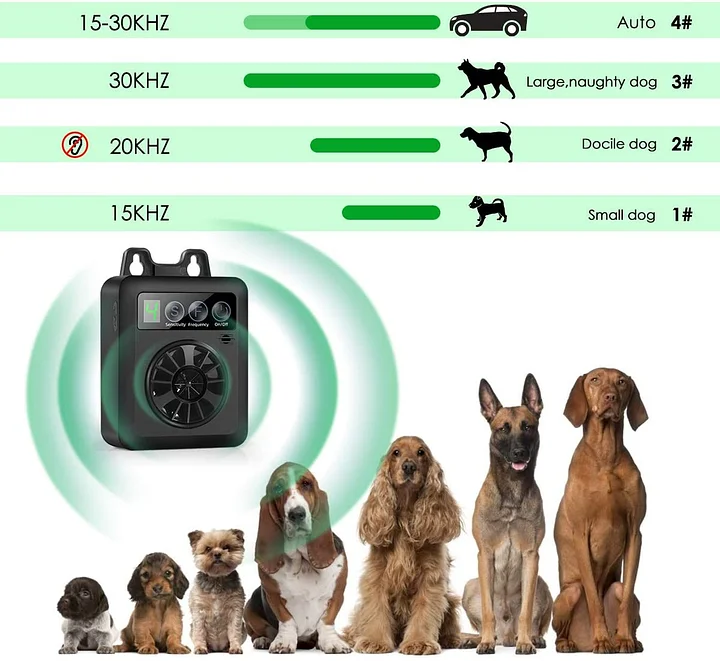 Charging:
☏ USB Charging Only.
☏ Charge for 3 hours, work for 30 days(On standby).The higher the sensitivity and the higher the frequency, the faster the battery will drain, so you need to charge it when it is low. You can turn it off if necessary.
☏When charging the device, the digital display will show the power level and continue to flash until it is fully charged. When the product is fully charged, the digital display will show a "4".
ON-OFF:
☑To turn device ON: Press the "POWER" button down for 3s and it will beep once with the digital display flashing a green number which will then disappear.
☒To Turn device OFF: Press the "POWER" button down for 3s and it will beep twice and turn itself off.
Frequency Settings:
☺You can choose to adjust the sensitivity from 1-4 by constantly press the Sensitivity button. According to the received dog's barking sound level and distance, trigger the ultrasonic start.
☞Level 1 Ultrasonic Frequency 15KHZ, digital display 1 with 6s
☞Level 2 Ultrasonic Frequency 20KHZ, digital display 2 with 6s
☞Level 3 Ultrasonic Frequency 30KHZ, digital display 3 with 6s
☞Level 4 Ultrasonic Frequency 15KHZ-30KHZ, it will emit for 1-3 level 3 different ultrasonic frequency sounds with 6s, digital display 4
Specification:
✲Product Name: Barking Control Device
✲Power: USB
✲Input Voltage: 3.7V
✲Input Current: 40mAh
✲Battery: 3.7V 1500mAh
✲Waterproof IP Rating: IP4
✲Sensor: Sound Detection
✲Sensor Distance: Up to 25ft
✲Ultrasonic Frequency: 15KHZ-30KHZ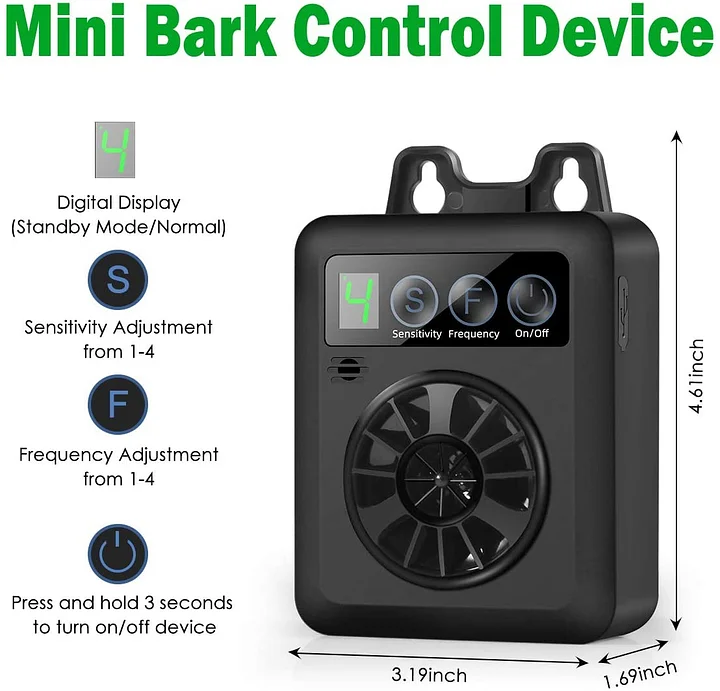 Package:
❈1 * Anti Barking Device
❈1 * USB charging cable
❈2 * Mounting Screws and Anchors
❈1 * user Manual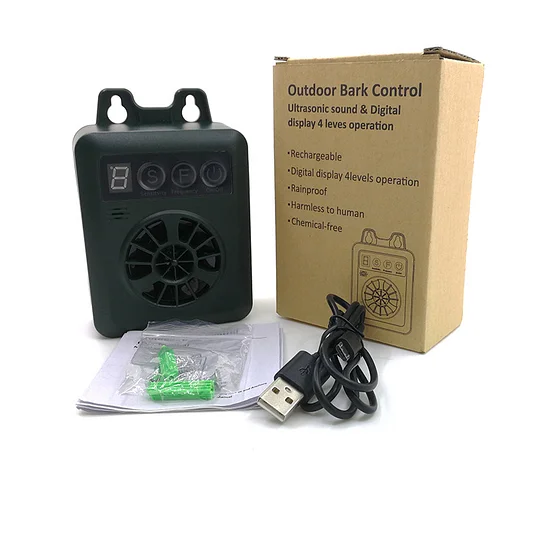 COFFEESTRICT shipped to almost every country in the world, we use the services of major, trusted international carriers to ensure that your package reaches its destination quickly and safely.
Mode of transport:
We use the following modes of transportation: FEDEX, UPS or USPS.
Mode of transport and Cost:

Duty-free, standard shipping for USA, Shipping Cost 9.99 USD.

Excluding tax, free shipping on orders over 59.99 USD (applicable to single orders worldwide).


Transportation time:
All orders will be shipped within 1-3 business days, after the product is shipped, it usually takes 10-15business days to arrive.
Please note that shipping time does not include processing time.
The total time required to receive an order is processing time + shipping time.
Processing time;
Upon receipt of your order, we will conduct quality control checks and tests to ensure that the quality of the products is guaranteed prior to shipment.
The average processing time is about 3-7 days depending on the specific product.
However, it may also be affected by the inventory status of materials.
Please note that this does not include holidays and weekends.
If you have any questions, please refer to the contact page, which is at the bottom of our website. You can always contact us.
Transportation cost:
Our transportation is all free of charge, do not need any charge for your transportation
Tax matters needing attention:
For the United States;
We don't charge any taxes in the United States
For other countries;
In most countries/regions, our customers do not have to pay import charges, customs duties or value added tax (VAT).
However, for some limited countries, you may need to pay customs duties or VAT according to the collection rules of your country/region. You can check with your local customs for more information.
If you have any further questions, please contact our customer service Email:service@coffeestrict.com
How to track shipping orders:
We will send the tracking number through your email address where you placed the order. For the tracking number, it will take 2-3 days to take effect on the tracking website website, because it takes a certain amount of time to scan and upload the logistics information.
If this information is not available, try again later.
Rest assured that no matter how updated the tracking site is, the estimated shipping time is valid.
The tracking website is